Experience the Bravo difference
Expert customer Care
Our signature trained Account Executives will help you through every step of your event.
Glassware
Our glassware is individually inspected for flaws and chips. They will always arrive labeled and sealed.
Tables & Chairs
Our tables and chairs are hand washed. Touch ups are done with our full time maintenance team.
Quality Equipment
All equipment is maintained after every rental.
Silverware
Our silverware is washed, burnished, hand polished and sealed to perfection.
Linens
We offer hundreds of different specialty linens. They are inspected and packaged by our dedicated in-house linen experts.
Online Quote
With all our prices listed online, creating a quote is quick and easy! An Account Executive will call you to discuss your order.
Delivery & Pick Up
Our transport Team is always ready to go! GPS technology lets us know where your order is at all times.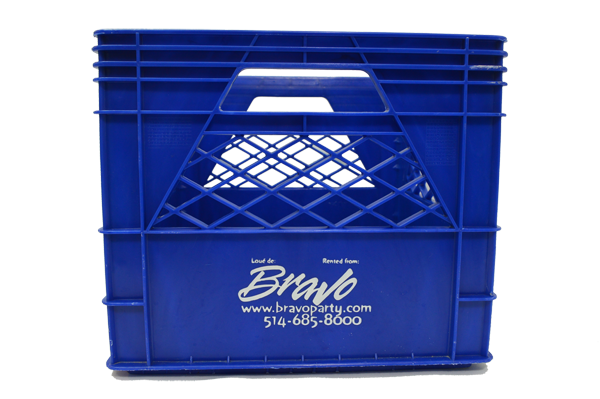 The Bravo Blue Box: A Symbol of our Quality
"Quality is never an accident; it is always the result of high intention, sincere effort, intelligent direction and skillful execution; it represents the wise choice of many alternatives."
– William A. Foster
Bravo's decades of experience in the event industry has taught us a thing or two about quality products and service. Packaging our products in our signature blue crates is one of the many practices we have adopted that help highlight the value we put in quality.
We are proud of our products. We choose to ship them to our customers in safe, washable, eco-friendly and convenient packaging. This not only helps us keep our stock in great shape, it also helps our clients to keep their back of house organized and well managed.
1984
In August 1984 Andrew Paquette, founded Pyramide Party & Loutec en Fete with two locations in Lasalle and Chateauguay, Quebec. The inventory included rentals, party supplies and decorations.
1995
Pyramide Party moved to one 20,000 sq ft location in Montreal to better serve our customers.
1997
Rebranding as Bravo Party Rentals was completed to fully embrace the Rental and Event industry in Montreal.
1999
Bravo expanded to 25000 sq ft and several times over the next ten years to serve Montreal, south shore, laurentians and Eastern Townships.
2011
The business moved to a new fully renovated 100,000 sq ft location in May 2011 with extended loading capabilities to better serve Eastern Canada.
2012
North American Industry professionals and peers voted Bravo "Party Equipment Rental Showroom of the Year"
2016
Groupe Bravo was founded after 32 years in business.
2019
Bravo celebrated 35 years in business.
Eco Bravo
Our blue boxes are made of recycled plastic and go through our dishwasher, so they are sanitized and cleaned after every rental.
We use eco friendly biodegradable cleaning products wherever possible.
Instant hot water only heats our water when we need it.
GPS technology allows our trucks to use the most efficient routes.
We use paperless invoices.
We recycle all shrink wrap, paper and plastic.