EXPERT CUSTOMER CARE
Our signature trained specialists will assist you through every step of your event. Our Account Executives are a great resource and support to our customers.
ONLINE QUOTES
With all of our prices listed online, creating a quote is quick and easy. An Account Executive will always follow up to discuss your order within 24 hours.
TECHNICAL SUPPORT
Unique to Bravo we have full time technicians to back up our equipment. They are knowledgeable about every aspect of our kitchen/catering equipment.
SHOWROOM
Guaranteed to WOW you. Our showroom is by appointment only. It is a great opportunity to see seasonal setups, find fresh ideas, and view our most elite equipment on display.
OFFICES
Need time and space to plan your event? Bravo has a boardroom and/or offices to meet with a client or simply to take the time you need in private to work on your event. This service is by appointment only.
ONTIME / AFTER HOUR TRANSPORT
Our transport department is always ready to go 24/7! GPS technology lets us know where our drivers are at all times. Watch for our proud team on the road and on-site.
SETUP AND TAKEDOWN SERVICE
We offer on-site equipment setup, installation, and takedown. Your event is in good hands with Bravo on-site.
CAD
Our Bravo specialists assist in developing floor plans with CAD software to ensure accurately scaled drawings for your event.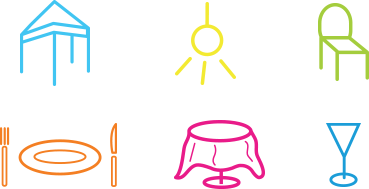 We're accredited!
Bravo is proud to have Certified Event Rental Professionals (CERP), accredited from the American Rental Association. CERP is the only rental-specific certification program for those in the party and event rental industry. It symbolizes our industry knowledge, expertise and ongoing commitment to you.